If the pathways to success were not secret, everybody would have been rich and successful. Unfortunately they are not or fortunately; depending on how you look at it. As anyone who has succeeded at any endeavour would tell you, the secrets to success are locked and sealed with CODES, hidden away from the eyes of the majority and revealed to a select minority. With the desperate need to succeed, unlocking the CODE has never been so important as Now!
To unlock a CODE that would reveal the secrets, you need someone with the right tools to act as tutors and experts to unravel the secrets to business success. Dazzle® Carpentry Training (DCT) has been able to decipher the CODE and would be making it available!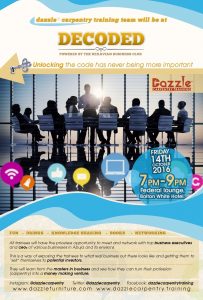 Dazzle® Carpentry Training team will be attending a business meeting at DECODED, a programme organized by THE HEXAVIAN BUSINESS Club.
DATE : Friday 14th of October, 2016.
TIME : 7PM – 9PM
Venue : Federal Lounge,
Bolton White Hotel (Area 11)
All the intending prospects and TRAINEEs will have the priceless opportunity to meet and mingle with top business executives and CEOs of various businesses in Abuja and its environs. It is not an opportunity that shows up often and as with rare opportunities, they are usually grabbed with both hands (and even feet plus teeth… lol) by the smart and savvy ones.
This platform presents a way of exposing the TRAINEEs to what real business out there looks like and getting them to "sell" themselves to potential investors.
They will learn from the masters and captains in business in order to see how they can turn their profession (Carpentry) into money making venture.
It is not meant to be a boring class set-up and because we know you like it spicy, we have arranged tons of fun activities! There'd be Drinks, Knowledge-sharing, Books and the priceless chance to Network! So Blaze it out again!!
With an ever growing network of perhaps the brightest minds in Africa present at The Hexavian Business Club, where would you rather be on Friday 13 October 2016 between the hours of 7-9pm? At your favorite bar with friends shouting, 'TGIF!'? Or at the Federal Lounge of Bolton White Hotel, Area 11, Abuja?
#dazzlecarpentry
#dazzlefurniture
#dazzlescholarship
www.dazzlefurniture.com
www.dazzlecarpentry.training
follow Dazzle® Carpentry Training on social media to keep up with our activities in real-time:
Twitter: @dazzlecarpentry
Instagram: @dazzlecarpentry
Facebook: www.facebook.com/dazzlecarpentrytraining