My name is OSUJI INNOCENT; I am on my way to the top."
At first, I thought Carpentry was reserved for illiterates and those ill-equipped to face life, but I was amazed at what I experienced at the just concluded Dazzle Carpentry Training.
I was fully trained by qualified professionals, who opened my eyes to the potentials in Carpentry. Now I know better and I am ready to the plunge into the world of entrepreneurship.
This is another opportunity, for interested members of the general public, who are desirous of stepping into the Dazzle Carpentry Training.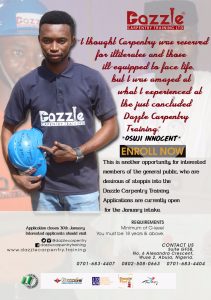 Applications are currently open for the January 2017 intake.
Interested candidates visit: https://dazzlecarpentry.training/form-view/2 for the application the form.
For more information, call:
08025080663,
08038771524,
07016834404.
Visit our office at suite GF5B, Berger Paint Plaza, #6 Alexandria Crescent Wuse II Abuja.
Find us on social media:
Facebook: www.facebook.com/dazzlecarpentrytraining
Twitter: www.twitter.com/dazzlecarpentry
Instagram: www.instagram.com/dazzlecarpentry
Telegram: http://telegram.me/DazzleCarpentryTrainingLtd
Website: www.dazzlecarpentry.training